So now the rumor is that the Big Ten will increase to 16 teams. They skipped right over the 12-team format, which means they didn't use my new Big Ten logo that was custom-made for 12 teams. Now I have to make another Big Ten logo update.
Here it is: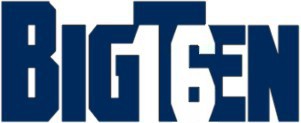 Betcha didn't see that one coming, did you? It's not at all like my previous logo. I know, I know, it's a unique take on the traditional Big Ten logo – bold, yet subtle; progressive, yet retro.
Although I do like the history of the Big Ten and the tradition of the conference, perhaps it is time to change. That's it – we need change! Let's pass a College Football Reform bill!
Sorry, I got carried away.
Let me start over.
Maybe the Big Ten should change the name of the conference – take out the number. It works well for other conferences: SEC, ACC, MWC, MAC, WAC. You don't need a number in your conference name. It's either wrong or you have to keep changing it.
If PAC-10 adds some teams, they could become the PCC (Pacific Coast Conference)
If the Big 12 loses some teams, they could become the FSC (Flat States Conference)
If the Big Ten really does add 5 more teams, they could be called something else:

If they absorb Notre Dame and NBC wants the rights to the games, they could become NBC (National Big Conference). Think of it – "The NBC on NBC"
If they want to keep their current deal with ABC, they could become ABC (America's Best Conference). That could be sold as "The ABC on ABC, presented by TCBY."
To the larger group you shall increase their inheritance, and to the smaller group you shall diminish their inheritance; each shall be given their inheritance according to those who were numbered of them.
Numbers 26:54