Lunch for Beta today consisted of macaroni and cheese, accompanied by a hot dog. It was an extra-nutritious lunch because I was in charge. Normally when my wife makes lunch she includes things like fruit and/or vegetables.
When I make hot dogs, I check with each child to see how he wants the hot dog served: normal, cut into little circles, or made into an octopus shape. I think they have each taken me up on the octopus offer only once. After they see that the octopus isn't really much to behold, and it tastes the same anyway, they stick with just a plain hot dog.
But today, for some reason, Beta took the octopus option. So I got to serve my infamous hot-dogtopus.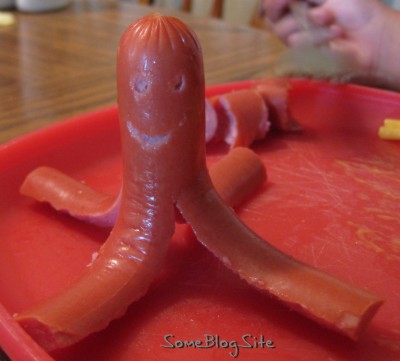 It might be better if the octopus had 8 legs instead of 4, but my knife skillz aren't that great. They are approximately halfway between dejected and upset – nowhere near mad. And if you do try this at home, you get bonus points if you taper the legs so that they look more like tentacles and less like stumps.
Come to think of it, the mouth isn't representative either – but who wants to eat a hot dog with a beak in it? That's a rhetorical question.
---
On a somewhat-related note, Alpha is at school all day so he takes a lunch. I packed him a salami sandwich, some chips, string cheese, and 2 chocolate-chip cookies. He came home today with the following items in his lunch box: half a bag of chips, string cheese, and 2 chocolate-chip cookies. So all he ate was a sandwich and about 4 chips.
That is uncharacteristic of him – he is a very god eater. Lunch for him yesterday was 2 pieces of pizza. Besides, what elementary-school-aged child ignores chocolate-chip cookies?
Oh well, packing his next lunch should be easy. I'll just make another sandwich and put it in the box with today's leftovers. He didn't say the food was bad – just that he wasn't hungry.
My soul refuses to touch them;They are like loathsome food to me.
Job 6:7