The old, cheap roll-up shades that we had in the living room were showing their age. Some edges were torn, some had broken or missing reinforcement rods at the bottom, and one couldn't even roll up anymore so it was left halfway up all the time (or halfway down for you pessimists).
The dining room has two windows, and those did not have the roll-up shades. They, instead, had the old-school blinds, with a pull-cord to raise and lower them and a long handle to twist if you wanted to change the angle of all the slats. Since those types of blinds are being recalled and shunned due to the strangulation hazard of the cord, we decided to replace all the shades and blinds in both rooms. No sense in having nice new shades in one room and ratty old blinds in the next.
The replacements are the cordless cellular shades.
Unfortunately, we found out too late that "cellular" refers to the construction of the shade and has nothing to do with mobile phones.
I installed all the new shades, being careful to make things nice and level. Then I stood back and surveyed a job well done.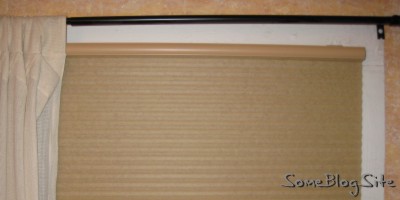 Thinking to myself:
How could that happen?
I made sure the shade was level when I screwed it into the wall. Why is the shade so crooked?
It's pretty obvious. People are going to notice that. Now we're going to need a nice valance to cover over that.
That's the problem with an old house. Things are either level or even. I make new things level, with a level, but then they don't match the existing things that match but aren't level.
Then I stepped closer to the window.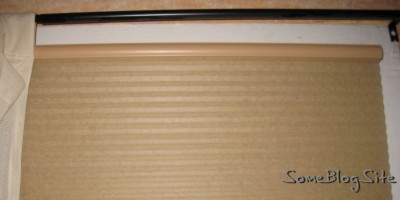 Hey, look! The shades aren't crooked – the curtain rod is.
Step back, look at the rest of the window.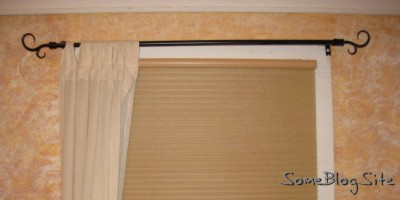 I think it's just the curtain rod. That shouldn't be too bad to fix. What could go wrong with that?
What is crooked cannot be straightened and what is lacking cannot be counted.
Ecclesiastes 1:15