Devil's Lake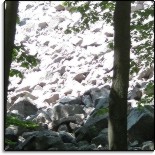 We hit the pools in the morning and then, after Gamma's nap and lunch in the room, headed out to Devil's Lake State Park for the afternoon.
Devil's Lake is a lake surrounded by hills and rocks and trees. Very scenic. The local DNR has done a good job renovating the lake, as there was no trace of any fire or brimstone. Not even any scorch marks anywhere. "Devil's Lake" is quite the misnomer in this case.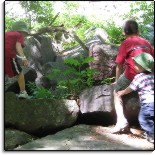 We started with a hike down one of the easier trails. It's hard to push a stroller on rough paths. Then the boys decided they wanted to try one of the steep paths (Pothole Trail, in case you have a trail map). Wife and Gamma hiked it for a minute, then decided against it and went back down. Alpha and Beta (and I) made it about 2/3 of the way up.
Then they gave up and went back down, where all 3 of them played on the rocks as we walked back to the lake.
My wife, always thinking ahead, had packed water and granola bars, so we sat by the lake and enjoyed a snack. The boys enjoyed seeing some minnows, and it was all rather peaceful.
Dinner
Then we went back into the Dells. Some more hotel and some down time, then out to eat! Dinner that night was at a restaurant. The wife had planned ahead and we brought a cooler full of food. So until this point in the vacation, we had not set foot in a restaurant (or gone through a drive-through place either) (or drive-thru). She had seen an ad or something for Buffalo Phil's. She thought it would be a fun place because the ad said that a train delivers your food. We got in there and, sure enough, there was a model train (of a larger scale) that went from next to the kitchen, past a few tables, and back to the kitchen.
However, the tables that were next to the train were full, so we sat at a table that was served by a plain ol' waiter guy. I'm pretty sure the train does not expect tips, so it should be slightly cheaper to sit there.
The food was plentiful, as evidenced by my meal: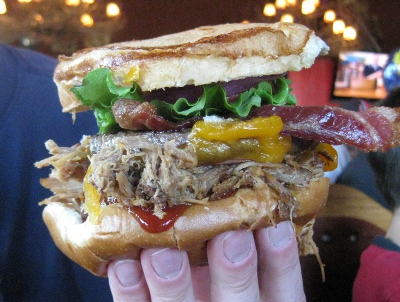 That was a buffalo burger, which had buffalo meat for the burger part, and bacon, and pulled pork. I don't know why they needed pulled pork on it, but I didn't mind.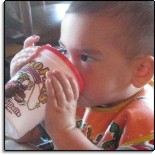 We learned something at the restaurant: restaurant cups with lids and without straws are an acceptable substitute for sippy cups. Albeit slightly messier.
Then back to the hotel, another round of waterpark fun, and then to bed.
Coming soon…Day 3
And the devil who deceived them was thrown into the lake of fire and brimstone, where the beast and the false prophet are also; and they will be tormented day and night forever and ever.
Revelation 20:10