About
Me
What would you like to know about me? You probably want to know more about who I am. But in this little space, you are not going to get to know me, just a little bit about me. So this page will tell you what I am.
I am a Christian, engineer, husband, and father (listed in chronological order).
I am also a graduate of Cedarville College. But that was the old name (yeah, I'm old school). Now it is called Cedarville University.
Okay, one picture of me and my wife.  This is not very recent.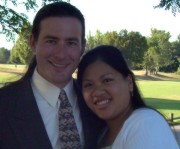 ---
This Blog
This blog contains whatever I feel like writing. The thoughts are not completely random, but there certainly is no overriding theme. Well, yes, I suppose "random thoughts" would be an overriding theme that would apply.
My current plan is to put new content on this blog 3 days a week, so expect somewhat regular updates. I don't guarantee which 3 days those will be.
And I change the background (WordPress theme) every 3 months (seasonal quarters), so if you don't like the current look of the blog, come back when the season changes.
---
My Kids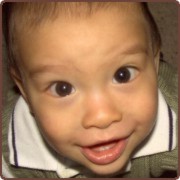 This is Alpha, the first-born, when he was 1YO.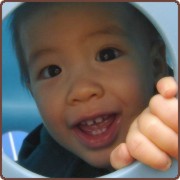 This is Beta, the second-born, when he was 1YO.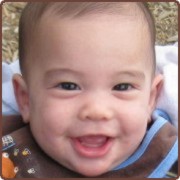 This is Gamma, the third-born, when he was 6MO.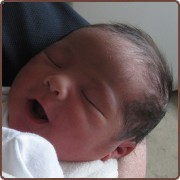 This is Delta, the fourth-born, when he was 1DO.
I refer to my kids as Greek letters because I'm an engineer and because it keeps them incognito. They have approximately zero Greek heritage.
---
Some Other Blogs
What are some good blog sites?
By "blog sites", I assume you mean blogs and not blog hosts.
My main recommendations are over on the side, in the section titled SBS Blogroll. I use my blogroll to tell me when a blog has been updated. Here are some other blogs that aren't in the sidebar because they're updated every day.
---