This is a guide for how to play the game Machi Koro. It's a fun, involved card game.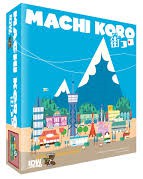 Now I have played it a few times and explained it a few times and so I will attempt to explain it here.
1. How do I win?
You win by being the first player to build all your goal cards.
2. How do I build goal cards?
By buying them with coins.
3. How do I get coins?
You earn coins based on what business cards you have, combined with what was rolled on the dice.
4. How do I get business cards?
By buying them with coins. You start with a couple of businesses, and those can earn you coins. The more coins you get, the more businesses you can buy, which in turn lets you earn more coins.
Each card has a value (what it costs to buy the card) and a rank (what number must be rolled in order for you to use the card).
5. How would you describe this game?
It's a cross between Settlers of Catan and Dominion. It's like Settlers in that your prosperity depends on what numbers you and the other players roll on the dice. But the game is easier and quicker than Settlers. And it's like Dominion in that you advance by gaining cards and those cards have different capabilities and you can choose what characteristics you prefer.
There, now go play Machi Koro.
Woe to him who builds a city with bloodshed And founds a town with violence!
Habakkuk 2:12