Day 6
Zion National Park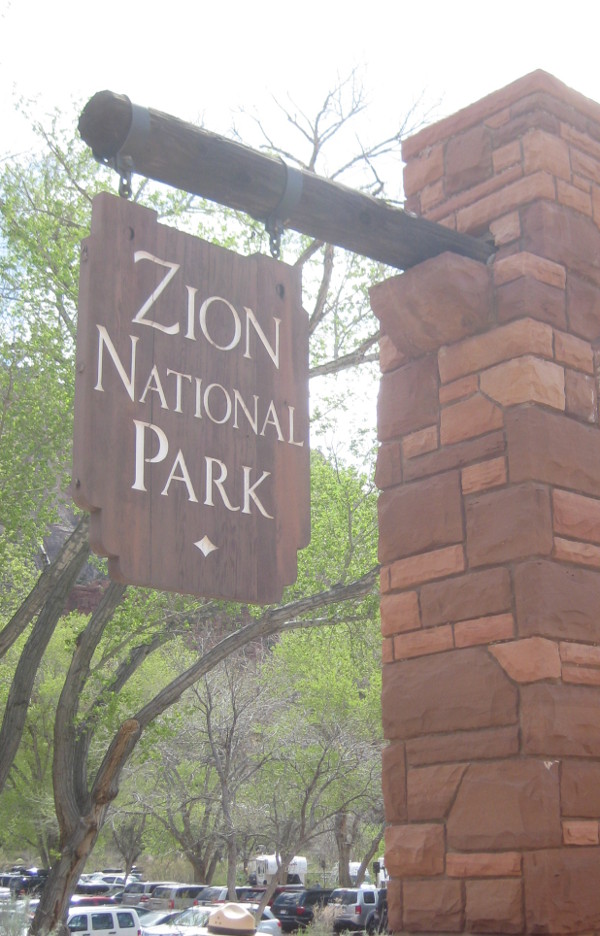 This day we set out early again, mainly because we had a 3-hour drive to get to Zion. The kids did very well. I did very well too, until we tried to park the vehicle. It should be called Zion National Take-the-bus, because there is no parking.
I should have taking a photo of the madness that was the road into Zion National Park – cars parked all along both sides of the road outside the park, everyone walking from their cars, cars waiting in line to get into the park, cars turning around at the entrance because they didn't have a reason or reservation to be admitted, shuttle buses going back and forth.
We found a parking lot a half mile from the entrance and parked there. We had to change our plans because we brought extra stuff, assuming we could get to our van between hikes for some refreshments or strollers or whatever. We had to leave the stroller and some snacks. We made our way to the shuttle bus stop and got into the park that way.
There was quite a line of pedestrians to get into the park. It seemed to me the reason was the park service had only one person at the ticket booth. By the time we got in the park, most of us were hot and frazzled. Beta was complaining about being hungry, but he couldn't eat the rest of his sandwich that we packed because we left it in the van.
All that to say this: if you do plan on going to Zion National Park, be prepared to carry everything you need. Do not expect to have your car available for anything.
Really, they should have put the canyon in a better place, with more parking. Or maybe they could widen the canyon so they could fit more parking spots inside it, closer to the trails. They really didn't think this national park through very thoroughly when they designed it…
Read the rest of this entry »