This is a guide for how to play the game Carcassonne. It's a fun, slightly involved tile game.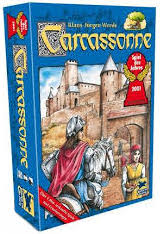 This is just a big-picture view; you will still need the rule book to learn the details of actually playing.
1. How do I win?
You win by having the most points at the end of the game.
2. How do I get points?
By claiming various features of land. Features are buildings, roads, and fields. The number of points increases as the size of the feature increases (length of road, area of building/city, etc.)
3. How do I claim something?
By placing your marker (meeple) on it. You can claim only one feature per turn, and it must be on the land tile that you just played that turn.
4. How does the game end?
You play until all the tiles are gone. After someone plays the last tile, you add up final points. You should have some points before then, as you count the cities and roads as they are completed/closed during the game.
5. How do I share a feature with someone to get some of their points?
You can't share a feature directly; if someone already has claimed it, you can't also claim it. You'll have to start a new item, claim it, and then connect yours to his (and hope he doesn't block you).
There, now go play Carcassonne.
Likewise, if a man sells a dwelling house in a walled city, then his redemption right remains valid until a full year from its sale; his right of redemption lasts a full year.
Leviticus 25:29