Lotions and I used to have an agreement that neither one of us would bother the other. And we stayed away from each other quite happily.
Then I got married.
And my skin started showing its age more.
So for various reasons, I have been using sunblock regularly for several years.
Chapter 1: Me and My Sunscreen
Sunblock or sunscreen or whatever used to be just a lotion that you spread on your arms, neck, back, whatever was going to be exposed to the sun. I didn't like the lotion part because I don't like having greasy hands. But it beat the pain and inconvenience of a sunburn. That's why I prefer not to go to the beach, if given the option. There's just so much work involved in getting ready.
Back on topic… I am used to sunscreen lotion now. And then this year, everyone is selling and promoting the spray-on sunscreen. It is hard to find just plain old lotion anymore. Now if there is anything worse than lotion, it is breaking a habit or tradition or changing the way things are supposed to be. Sunscreen is supposed to be a lotion. You can't just change it into an aerosol form.  That changes the whole summer ritual.
Chapter 2: An Invasive Species
I wanted to mow the lawn, but I needed to put sunscreen on first so that my arms wouldn't burn. I wanted the lotion. There were about 3 spray cans sitting there (what am I, a graffiti wall?) but no lotion. I used the sprayscreen, but I didn't like it because it wasn't what I wanted. It was new and I didn't trust it.
Plus :
It seems wasteful. How much of it just blows away in the breeze? The lotion has very little waste.
The spray stuff can't be used on faces, especially on children, so you need the lotion anyway (eyes should use sunglasses, not sunscreen).
And you have to be careful which way you are facing, otherwise you'll end up breathing the vapors. I don't know what effect spray sunscreen has on lungs, but at the very best it is useless. I have yet to hear of anyone getting a sunburn in their lungs. Lotion has no such problems of being inadvertently inhaled.
But that's what we had, so I used it.
Chapter 3: It Started Innocently Enough
Then another day we went to the water park. My wife is glad to have the sprayscreen stuff, because that makes her day easier.
"Okay everybody, line up. Arms out. Chins up. Eyes closed."
spray-spray-spray
"Okay, you're all set."
It is a lot quicker and easier. And it works fine for the kids, because they inherited some of her melanin and so they don't need as complete coverage as do I.
My wife is taller than our kids are, so when she sprays them with sunscreen, she is spraying from about the same position from which the sun shines down on them. So the areas they get sunscreen are the areas that need it.
Chapter 4: An Ugly Turn of Events
I got sprayed with sunscreen after the kids did. My wife already had the spray can out, so she just went ahead and sprayed me too. But she didn't have the same angle, so I didn't get covered in all the right spots.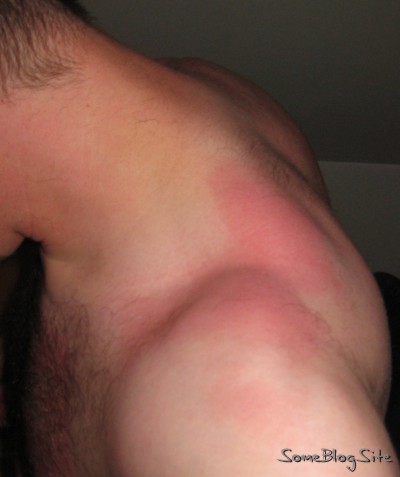 She and the sun have different perspectives.  Plus, I was probably complaining about the spray stuff, so she went quickly in order to minimize the ordeal. But I think she went a little too quickly. Or maybe it was too windy and the sunscreen never actually made it to my back.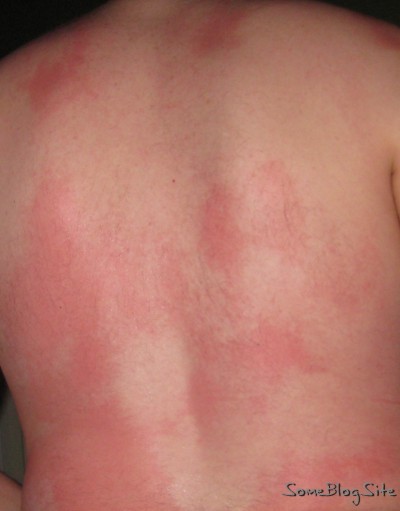 If before that day I was annoyed at the sprayscreens, then after that day I was angry at them. I mean, look how useless they were. I know, I just know, that if we had lotions instead of sprays, I would not have been sunburned that day.
My wife didn't see my sunburns until I was getting ready for bed that night. I was trying to talk to her about something else, but she just kept laughing at my sunburn. I believe she said the words "Wow, that's bad!" but it was between giggles.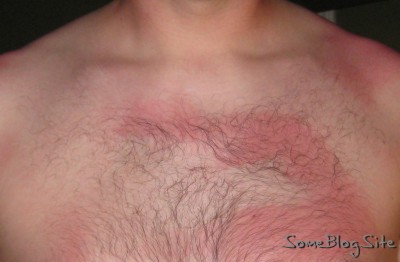 Then she stopped laughing, but she still wasn't paying attention to what I was saying…because she was too busy trying to find the different shapes in my sunburn. Like clouds: "look, that one's a bunny". Except it was with my seriously red skin.
Chapter 5: The Conclusion
I'm better now.
And the sprayscreen stuff is okay, if I rub it in after spraying it on. The sense of touch helps me to know that all areas are covered. That's what's missing with the sprayscreen. Rubbing in the spray-on sunscreen helps ensure even, complete coverage. And reassures me that I won't get burned.
But if you have to rub it on anyway, why bother with the spray can?!?!
Harumph.
Yes, I now have a couple of tubes of sunscreen lotion for myself.
Do not stare at me because I am swarthy, For the sun has burned me. My mother's sons were angry with me; They made me caretaker of the vineyards, But I have not taken care of my own vineyard.
Song of Solomon 1:6