We interrupt the saga of our trip to Wisconsin/Chicago for the saga of our trip up north.
Click on a picture for a larger version.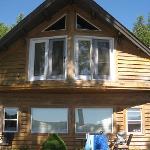 For the 4th of July extended weekend, we travelled a few hours north to a cabin. A friend of ours invited us, and a few other people, to the family lakefront property. It is surrounded by a national forest, so there was no cell phone reception for me, nor was there any internet. And, although it had electricity and plumbing, it did not have air conditioning. No air, and it was in the 90s on the days we were there. And we slept in the upstairs bedrooms – where all the heat went when it rose.
We saw a few things while we were at the cabin:
a bald eagle, drifting through the sky (because he was on vacation too):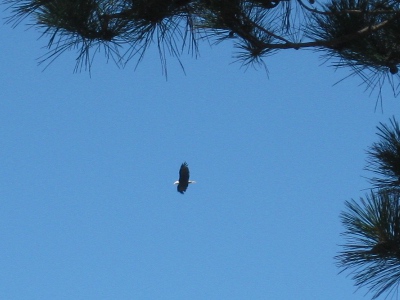 a sunset, over the lake (as they are meant to be):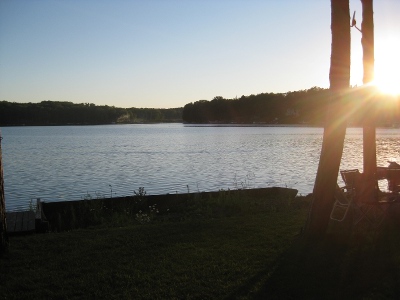 and a squirrel, in the cabin (as they are not meant to be):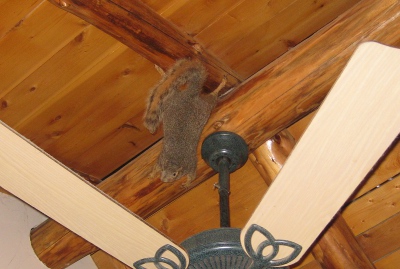 For those of you concerned for the squirrel's welfare, considering that he is perched above an operating ceiling fan in this photo: you're too late. No, the fan didn't get him – something else did. I don't know what exactly did him in, but he is taxidermied and that is his permanent pose on the ceiling of the cabin.
There's also an owl perched on a rafter, several deer on the walls, a wolverine on a platform, and a jackelope on the wall. My main regret about the weekend is that I forgot to get a picture of the jackelope.
Then He cried out to me and spoke to me saying, "See, those who are going to the land of the north have appeased My wrath in the land of the north."
Zechariah 6:8




This little article thingy was written by Some Guy sometime around 11:58 pm and has been carefully placed in the Travel category.