The Cheezburger Network combines the best and worst of the internet: it's amusing and clever but it's a waste of time. Okay, maybe there are worse things than just wasting time.
The CN sites follow the same formula: take a photo and add a caption to make it funny. It can get old quickly. And the CN can contain material that is inappropriate for children.
Or inappropriate for anyone.
But they do have one site, So Much Pun, that is slightly different from the others. I may or may not submit the following picture to them. You may see it on there eventually, but you will have seen it here first.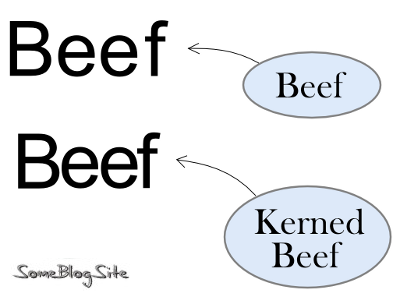 For those of you who aren't familiar with the technical details of typography and therefore do not quite get the pun, you might want to learn more about kerning.
Kerned beef is beef that had its letter spacing optimized.
And those of you who are not familiar with corned beef might as well just forget you even saw this post.
And he wrote a letter having this form:
Acts 23:25




This little article thingy was written by Some Guy sometime around 10:17 pm and has been carefully placed in the Humor category.