Continuation of a previous post
Note: Most pictures can be enlarged by clicking on them.
Day 6 was the last day of our vacation. Because of the awful drive between Schaumberg and Chicago, I was glad that Chicago was on the way home from Schaumberg. That way, we could check out of the hotel, drive to Chicago, and not have to drive back.
Aquarium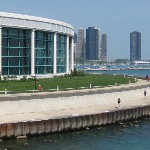 The only item on our agenda for day 6 was the Shedd Aquarium. Last time, a couple years ago, we arrived at the aquarium via the train (South Shore Line). This time, driving, I noticed that it is a lot more scenic. We parked in a somewhat close lot and walked along Lake Michigan to get to the aquarium. It was scenic but very hot. It was the hottest day of the vacation, and we were glad to be spending it inside. I voted that we stay at the penguin exhibit, but we didn't get there until later.
The kids enjoyed the aquarium, although Gamma never got to see exactly what he wanted to see.
We brought a lunch/snack and ate that at the main round tank in the center of building. We were going to see one of the shows, but the early ones were sold out and we didn't want to be there too late. So we skipped the show.
After the aquarium, we enjoyed the scenic views once more: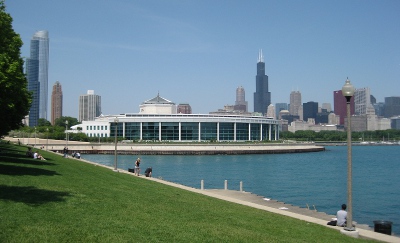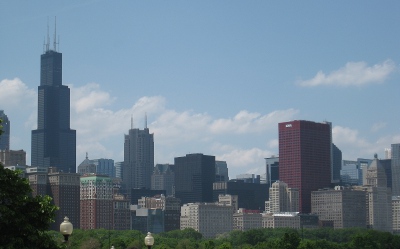 Then we put the kids in my parents' van and drove an hour or two to a restaurant for dinner. We always seem to stop at Bob Evans after vacations. We did that after coming home from Boise and we did that now after Chicago too. But they do have great prices on their kid's meals. After dinner, we took the kids back into our van and we drove home.
Conclusion
Don't pay full price for anything in a touristy area.
Except for Shedd Aquarium – they didn't offer any discounts. Everything else did: Lego store (some % off with coupon), Museum of Science and Industry (buy adult pass get kid pass free), Wisconsin Duck Tour (kids free also), etc. But you must get the tourist pamphlets/maps and find the coupons.
It's kind of like higher education – the prices are so inflated because there are so many subsidies. Everyone gets some sort of grant or scholarship, so the listed price is not indicative of the actual cost. If you find yourself in a touristy area and are wondering why the prices are so high: that should be your clue to look around for a coupon or some discount.
I give Wisconsin Dells 5 stars and Chicago 4 stars. Hey Chicago – if you want to improve your ratings, then get rid of your traffic jams and reduce your prices.
Again, the kingdom of heaven is like a dragnet cast into the sea, and gathering fish of every kind;
Matthew 13:47




This little article thingy was written by Some Guy sometime around 6:16 am and has been carefully placed in the Travel category.