I know that yesterday's entry promised to be the last about our trip to Wisconsin Dells and Chicago. Don't worry, this one is about photography. The subject of the photograph just happens to be a lake from our travels.
Some of you may recall that we took a trip to Devil's Lake while we were in the Wisconsin Dells area.
My little point-and-shoot camera didn't have a wide enough lens to capture the whole lake, so I took a few photos from different angles to get the whole scene.
Note: Most pictures can be enlarged by clicking on them.
Here are the individual photos: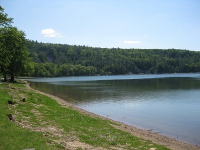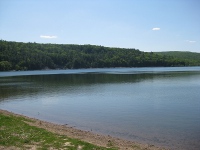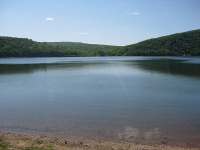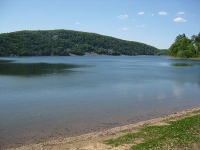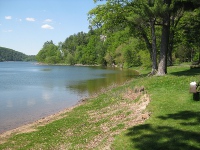 And is how they look all together:

But I didn't take the photos from precisely the same location. So for the panoramic photo, I had to manually align them:

It seems that the panoramic result is a bit skewed. The treeline looks correct but the shoreline wasn't that curved. So I arranged the photos to match the actual view:

That panorama now distorts the background (treeline) and foreground (shoreline) equally. So maybe that's the best compromise for now. Here is the final result, with spiffy finishing touches: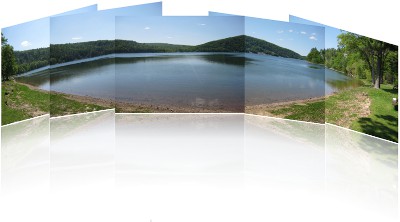 Then, after I did all that work, I learned about AutoStitch. AutoStitch is a program that will create a panorama for you.
Many photos -> Autostitch -> one big photo.
Here is the output of AutoStitch:

AutoStitch doesn't do much, but it does it well, quickly, easily, and cheaply (it's free). And my favorite part is that it doesn't need to install anything. You download the .zip file which contains an .exe. Run the .exe, select the few input files, and it generates an output file and soon as you click 'Open' on your input files.
From the top of the mountain the border curved to the spring of the waters of Nephtoah and proceeded to the cities of Mount Ephron, then the border curved to Baalah (that is, Kiriath-jearim).
Joshua 15:9




This little article thingy was written by Some Guy sometime around 6:45 pm and has been carefully placed in the Travel category.