Let me set the background by saying that the last time the kids had a week off school, a couple of them got the flu. My wife had activities planned throughout that week that she had to cancel, since most of the activities involved seeing other families. So instead of a fun week of doing stuff, my wife had the joy of staying at home with sick kids.
That was months ago. Today is the first day of the next school break. Of course we were wondering if anything would happen to prevent this week's lot of planned activities.
Sure enough, Beta woke up Sunday morning looking like this: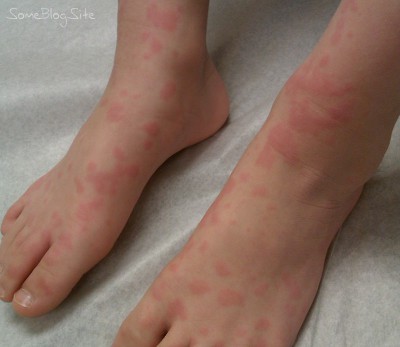 Of all the things that could happen, he gets an unknown rash.
Saturday night he said his feet itched. There were what looked like a few mosquito or spider bites, so we gave him some anti-histamine medicine and that was the end of that, at east for that night.
We kept him home from church on Sunday, because at that point we were still wondering about chicken pox or measles or scabies or hand-foot-mouth disease. The internet is wonderful for getting a lot of information, but it didn't really help us much. It wasn't better after lunch, so we took him to the walk-in clinic for an official diagnosis.
By then it was up to his knees: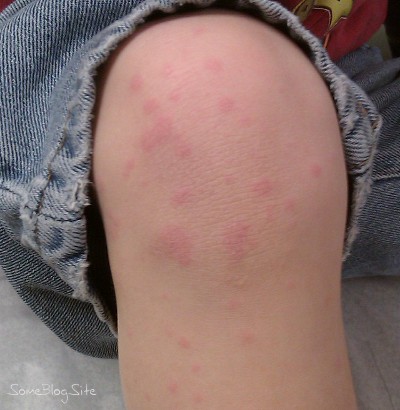 and a couple of spots on his hands: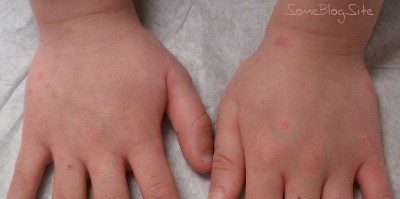 The doctor, after putting on gloves and poking the rash, said it was hives. Probably due to a food allergy. We tried to think of everything that he ate the day before, but there wasn't anything he had that he didn't also have earlier in the week.
So we don't know what food it might have been. We'll just keep going and see if it happens again. Then maybe we can figure it out.
and if it spreads farther on the skin, then the priest shall pronounce him unclean; it is an infection
Leviticus 13:22




This little article thingy was written by Some Guy sometime around 6:43 pm and has been carefully placed in the Family category.