Delta met a skunk last weekend: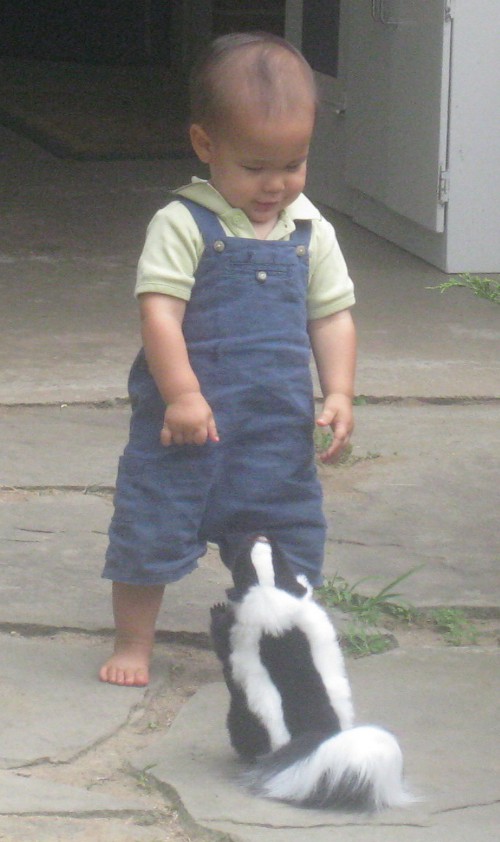 And here he is playing with the skunk: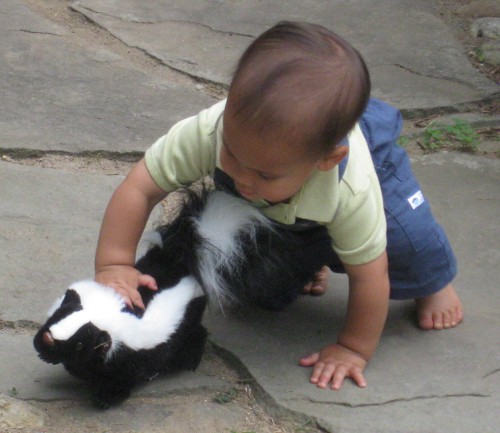 I tried to warn him not to squeeze the skunk, but I don't think he understood.
No, it was not a pet.
It was a toy.
His cousin got a radio-controlled skunk for her birthday.
Push one button and it moves forward.
Push another button it moves backward.
Push another button and it lifts its tail.
To my dismay, the box stated "No spray, no mess".
No fun.
I say we retrofit a pump in the skunk. Tie the activation of the pump to the circuit that controls the lifting of the tail.
You could fill the reservoir with whatever. For fun, it could be bubbles. For usefulness, it could be bug spray or sunscreen ("Okay kids, stand behind the skunk before you go outside."). For security, it could be pepper spray ("Don't make me use the skunk…")
If you are a manufacturer of toy skunks, at least let people have the option of using the spray feature. It's not really a skunk without it.
The nursing child will play by the hole of the cobra, And the weaned child will put his hand on the viper's den.
Isaiah 11:8




This little article thingy was written by Some Guy sometime around 6:38 pm and has been carefully placed in the Family category.