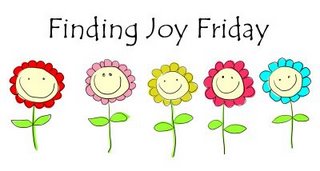 In cooperation with LaanyKidsMom, here is my entry for this week.
Where did I find joy this week?
At home, with my oldest child
Alpha enjoys reading, laughing at, and then telling jokes. After flipping through a few books at the bookstore, I realized that the joke books he likes right now are the "Silly Riddle" type of books. The other joke books aimed at young children were fine, but he appreciates the word play of the riddles.
Here are a few of our favorite riddles:
Q: How do you put a sliced pizza back together?
A: With tomato paste!
Q: What's a pig's favorite sport?
A: Pig-pong!
It's so fun listening to him tell those jokes because he wants to make sure that you get the joke.
Q: If chickens wake up when the rooster crows, when do ducks wake up?
A: At the quack of dawn.
Then he will emphasize it for you: "Quack of dawn."
Q: Who steals the soap from the bathtub?
A: The robber ducky.
"Robber, instead of rubber."
Q: What drink has a cold?
A: Coffee. Cough-ee.
And then he coughs and says "ee", just so you are sure that "cough" replaces "coff"
To understand a proverb and a figure,The words of the wise and their riddles.
Proverbs 1:6




This little article thingy was written by Some Guy sometime around 5:17 pm and has been carefully placed in the Family category.