I took Beta to a hockey game – just him, no other kids. I had given him a choice of games – football (would have been a college game) or hockey (was a minor league (OHL) game). He chose hockey, so hockey we saw.
We were right on the glass, near the corner where the players make their grand entrance and where the crew (cleanup, ice maintenance, car to be given away, etc.) enter and exit. The first thing we noticed, after we sat down, was that the mascot was standing in the entryway to the ice and was a mere several feet from us.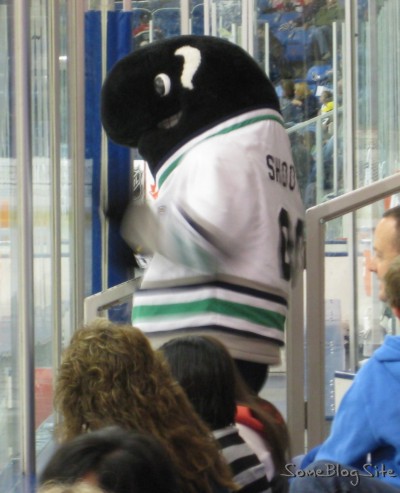 For most kids that might not be a problem, but Beta is intensely distrustful of mascots, clowns, Santa Clauses, Halloween costumes, etc. So I was very impressed when Beta actually waved to the mascot. I think it helped that there was a significant barrier protecting us from the mascot.
Partway through the first period, a deflected pass went up into the nets that surround the ends of the rink. Since our seats were on the corner and were also the first row, we were under the netting somewhat. The netting was attached to the back of the glass so that if a puck hit the net and rolled down, it would end up in the first row of seats.
And that's exactly what happened. The guy sitting next to us caught the puck. He was there with his family, so they enjoyed that. Then, a period later, the same thing happened again. The man was so very nice and gracious and offered that puck to Beta, who quickly accepted it. So he got an official game puck and made sure he knew where it was at all times (answer: in my pocket so we wouldn't lose it).
When we walked into the rink, we had to go past all the vendors. I pointed them out to Beta – "here's ice cream, do you want any?", "there's the food", "here are roasted almonds, or you can have chocolate-covered pretzels". Each time, I would ask him if he wanted anything. And each time, he would decline.
After the first period, I asked him again if he wanted anything. And again, he declined. I asked why he didn't want anything, any dessert here at the game. He said he wanted to wait until we got home so he could have a Tootsie Roll. So I bought myself some roasted almonds. He wouldn't even try one.
I thought seats on the glass would be fun, and they were. At least for me they were. Beta did not like the checking into the glass. I don't know if he didn't trust the Plexiglas-brand acrylic glass or if the noise was too loud, but each time something happened against the boards in front of us, Beta would lean as far back as he could.
Eventually, at his insistence, we moved back a row. That was for the third period. That, coupled with the fact the I couldn't see much of anything that happened at the other end of the ice, means that when I go back, I want seats at least halfway up. Beta quite enjoyed the game. He said he wants to come back with Alpha next time, but not with Momma.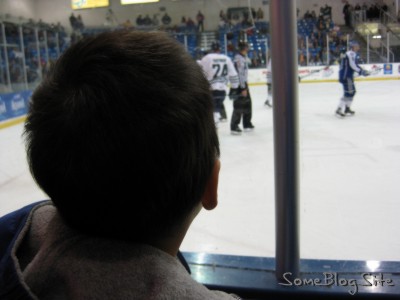 One last thing to note about the game: they were not just power plays, they were Air Force power plays. Apparently you can sponsor the power plays. At least the face-offs were anonymous.
All in all, it was a good game. It had just about everything one could want in a hockey game – checking, 5-on-4 power plays, a couple of 5-on-3 power plays, a hat trick, a throw-off-the-gloves fight (they both got penalties – 5 for fighting), and Canadians.
Beta fell asleep on the way home, holding his free coloring book and the puck. I think we're off to a good start. Other children may fall asleep holding their blanket or stuffed animal – mine has his hockey puck.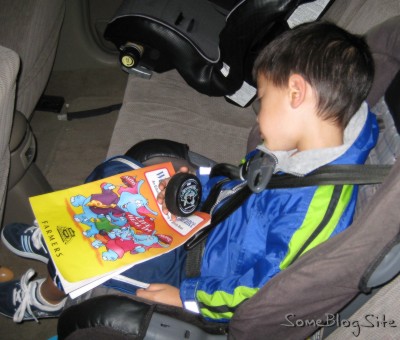 If you then, being evil, know how to give good gifts to your children, how much more will your heavenly Father give the Holy Spirit to those who ask Him?
Luke 11:13