Since Beta enjoyed last season's hockey game so much, we scheduled another one for this year.
Parking
First off, parking was a hassle. It was very easy to get lost. Just look at this poor guy: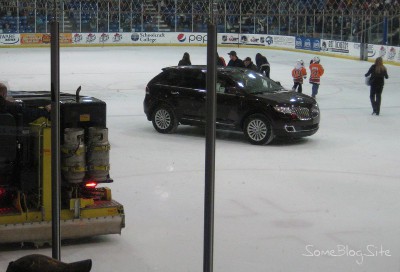 And if not being able to find a parking spot wasn't bad enough, people added insult to injury by throwing hockey pucks at the guy.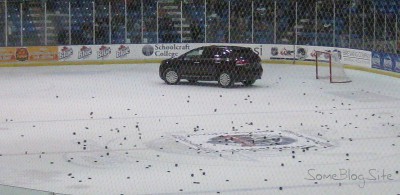 National Anthems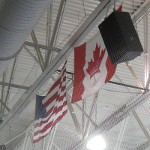 We got there with a few minutes to spare, so we were watching the pre-game festivities (warm-ups, ice clearing, etc.) Most of the arena was full, but our row had only one other person, 10 seats away. Beta was a little wiggly, so I asked if he had to go potty, to which he replied "No."
So the festivities concluded and then the national anthems started. It was anthems, plural, because it's hockey so you start with Canada's anthem and then do the USA. Yes, there was one team from Canada and one from the US.
Anyway, by the end of "O Canada", Beta was jumping up and down and telling me he had to go potty. I tried to have him wait ("Hold on, we have to sing our national anthem first.") but he was not going to make it. It went against all my upbringing, but after about "dawn's early light", we broke rank and headed up the stairs to the bathroom. I felt bad, and I may or may not have pretended to be Canadian to quell all the stares I thought were directed my way for being so rude. It was an emergency, people.
Seating Situation
Crisis avoided, we headed back to our seats. We were in seats 11 and 12, which were two spots in from the end (i.e. there were seats 13 and 14 and then the aisle). We missed the puck drop, so the game was in action when we got back to our row. But now there were people, and woman and a man, in seats 13 and 12. The guy was in Beta's seat. Out of the whole row there were 11 empty seats other than ours, and they chose to sit in Beta's.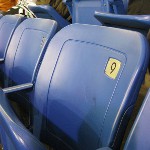 I didn't want to make a scene, especially since it wouldn't kill us to scoot down a seat. I sat down in my seat, which still had my coat prominently draped over it, and I put Beta in the seat on the other side of me (#10). He looked at me with a worried look, and I realized that his coat was still in seat #12, where the big goon was sitting.
I leaned over and asked the guy if there was a coat in the seat. He said "No, it was empty when I sat down.", but I said something else to the effect of "there should be a coat there" so he stood up and we saw Beta's coat. It had fallen down the back when the seat bottom had folded up.
Now most normal people would realize that they had made a mistake and offer to move over to rectify the situation. But nooooo, not Mr. Can't-sit-in-the-aisle-seat. He reached down and handed me the coat and then sat back down. Apparently, that was my cue that the situation was now over and we could all go back to watching the game, which we did. At the first intermission he and the woman left and never came back.
But don't worry, I'm not bitter or annoyed.
Breathe in…, and exhale.
Okay.
Recap
Last season, the home team won very easily, like 8-2 or so. Wasn't even close. This year, we finished the first period down 0-2. And we finished the second period down a goal or two. But in the third period, the game really picked up: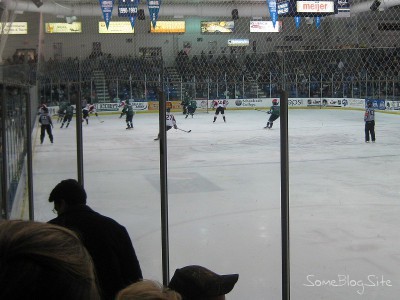 With about 5 minutes left, we scored to tie it 3-3. That was really nice because it was a short-handed goal.
Then about 40 seconds later, the visitors went ahead 4-3.
With about 3 minutes left, we scored again to tie it 4-4.
Then about 20 seconds later, the visitors went ahead 5-4.
With about 1.5 minutes left, we scored again to tie it 5-5.
At that point, it was an hour past Beta's normal bedtime. I was prepared for him to stay up late on this special night, so that was no surprise to me. He wanted to stay for overtime, so we did. They played a 10-minute period and no one scored.
Beta was still awake, so we stayed for the shoot-out. It the first time I had actually seen a shoot-out. The Zambonis came out to smooth the ice, but the only made a trip down the middle of the ice and then left.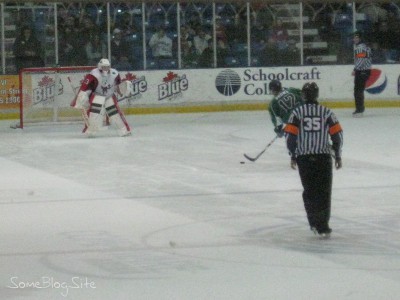 For a shootout, each team takes a turn, one player at a time, shooting the puck at the other team's goalie. Whoever gets the first goal wins. The puck starts at center ice. The first guy went, then the other team's first guy, then the second, etc. At this point, I was thinking "This is where the goalies really earn their money." I took some photos and then thought it would be neat to get a little video of the shootout. By this time, the other team was on their 8th or 9th guy. I took the video of him, and it turned out to be the winning (or, rather for us, losing) shot, as the puck went in the goal. I should have waited to shoot the video of our guy's turn.
Oh well, it was a successful night. A total of $20.50 for parking, admission, and snacks was well worth it for a night just for Beta, who only made it about halfway through the 15-minute drive home.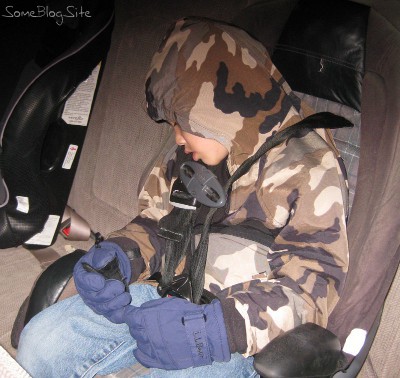 I will shoot three arrows to the side, as though I shot at a target.
1 Samuel 20:20