Inspired by Beck (and with apologies to Arnold S. Lobel), I wondered what Frog and Toad's relationship would be like if they had Facebook.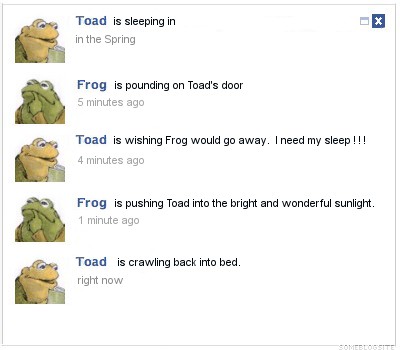 I have taken the liberties in updating the Frog and Toad story to today's society. Thus, the story ends a little more abruptly than it does in the book.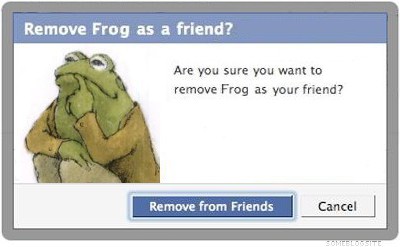 My suggestion to FB is that they should not let you unfriend someone so easily. If you do say you want to unfriend someone, FB should tell you to talk to them and work out whatever is bothering you. A cooling-off period, perhaps.
Likewise, FB should have different levels. Right now, everyone is a friend. You shouldn't be able to call someone a Friend so easily. You should have Acquaintances and Friends – two different categories. Acquaintances could come and go, but Friends could not.
Of course, I'm not a FB user, so I won't notice if they change their friending policies. But I do hope that people don't treat other people the same way in real life as they do on Facebook. Because the friends in Facebook are just names on the computer screen, not real people, right?
A man of too many friends comes to ruin, But there is a friend who sticks closer than a brother.
Proverbs 18:24




This little article thingy was written by Some Guy sometime around 5:53 pm and has been carefully placed in the Ponder category.